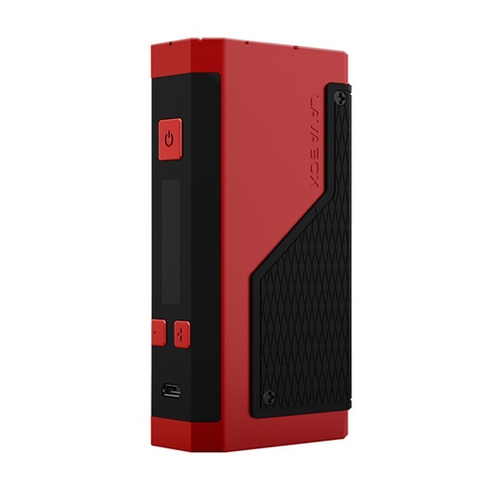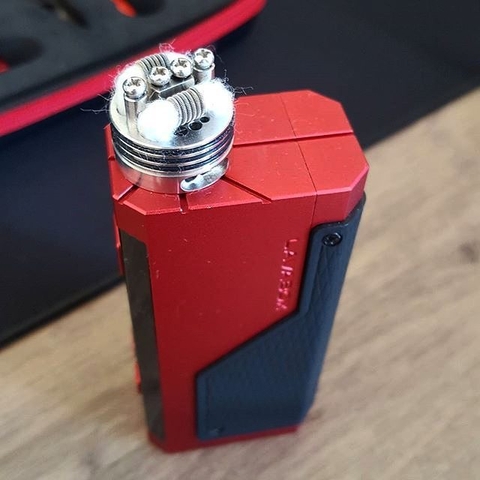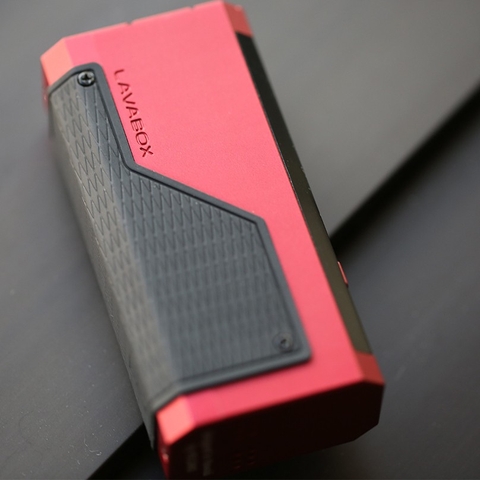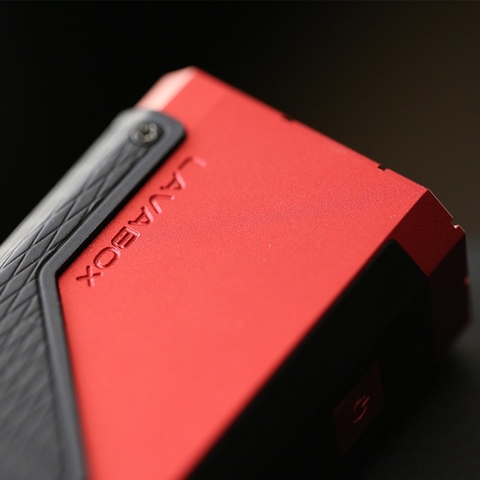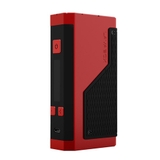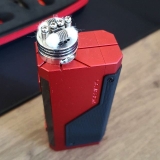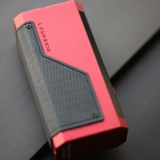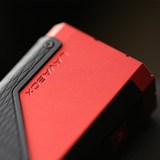 LAVABOX DNA 200 Box Mod - Blood Red Edition
Thương hiệu : Volcano | Xuất xứ:
The DNA 200, it's in our blood—the inspiration behind our limited release LAVABOX DNA 200 Blood Red Edition Box Mod. This timeless vaping device is crafted with a refined attention to detail and offers the best in class for vaping performance and eye-catching elegant style.
The LAVABOX DNA 200 Blood Red Edition has been masterfully crafted from superior-grade 6061-billet aluminum alloy for a device that is corrosion-resistant, durable and yet remains lightweight. This makes for an outstandingly strong box mod that will provide its user a long-lasting and reliable device for many years to come.
What makes the LAVABOX DNA 200 Blood Red Edition special is its unique crimson red look. All LAVABOX DNA 200 devices are treated with a black anodization process to increase its resistance to daily wear and tear. But what makes the Blood Red LAVABOX special is in its final look. The Blood Red LAVABOX has been specially treated with a high-grade oxidized red pigment to create its exclusive deep red finish. Not only does this treatment make for a truly aesthetically pleasing device, the special coating adds an increased textural feel for an anti-slip finish.
The LAVABOX DNA 200 Blood Red Edition is wrapped in a durable black rubberized grip for an added rugged look and more traction for a secure feel while the device is being used. The removable grip is constructed from a superior-grade polypropylene plastic and covered with a protective rubber coating for a hardwearing, anti-slip texture.
The LAVABOX DNA 200 Blood Red Edition is equipped with a stainless steel 510-connector surrounded by eight airflow channels that lead air into the tank or RDA being used. The device's center pin is spring-loaded and gold-plated for increased electrical conductivity. With a connection this secure, any user can truly take advantage of the LAVABOX's incredible power capacity, which is adjustable to up to 200 watts.
The LAVABOX DNA 200 Blood Red Edition is furnished with an HD OLED operating screen. This screen displays an array of important information to the user regarding the device's current settings. This bright OLED screen displays the current wattage / voltage settings, the temperature of the atomizer coil being used (in temp control mode), the atomizer's resistance, remaining battery life and puff counter.
The LAVABOX is completely customizable down to its screens and operating abilities, this is all thanks to EVOLV's EScribe Software. EScribe is a managing software program that has 93 separate customization options for the LAVABOX DNA 200. Using EScribe (currently only available on Windows), the user can plug their device into their computer via the included USB cord and can then customize their vaping settings based on their own unique preferences. EScribe can then be used to set up 8 customized user profiles perfectly suited to a specific tank, RDA, resistance or coil being used. With EScribe a user can easily configure specific vaping settings in different profiles to match the atomizers they use daily and can then upload the settings to their LAVABOX. EScribe can make a user's advanced vaping experience as easy as twist on, set profile, prime and vape!
In addition to the LAVABOX's amazing wattage range and customizable features, the LAVABOX DNA 200 Blood Red Edition is also temperature control capable. When this device is used with Ni200 Pure Nickel coils or Titanium coils, this innovative box mod can accurately be set to sense and limit the temperature of the coil of the atomizer being used. This temperature control capability can virtually guard a user from experiencing burnt hits, dry pulls and vapor that is too warm for their tastes.
The LAVABOX DNA 200 Blood Red Edition is powered by a 900mAh 3-cell lithium polymer battery that can give any vaper a long day of vaping without the need of constant charging or battery swaps. The internal battery of the device can be charged via the micro USB charging port located at the front of the device. This port also allows the LAVABOX to be connected to a computer in order to access EVOLV's EScribe Software and additionally offers the user the ability to upgrade their device's firmware to keep up to date on the latest available vaping technology.
The LAVABOX DNA 200 Blood Red Edition is a beautiful, feature-rich and truly powerful vaping device that is also backed by a host of safety features. Any user can truly vape with ease of mind with the included safety features like short circuit protection, over voltage protection, under voltage protection, over discharge protection, over current protection and its unlock/lock feature.
Masterfully designed and engineered with meticulous attention to details, the LAVABOX DNA 200 Blood Red Edition is truly at the apex of vaping technology and makes for an ideal addition to any advanced vaper's device collection.
Features:
Limited Edition Blood Red Anodized Finish
Houses the Powerful DNA 200 Chipset from EVOLV
Adjustable up to 200 Watts
Variable Wattage/Voltage
Temperature Control Capable with Nickel & Titanium Coils
HD OLED Display
EScribe Software Equipped
Internal Charging Capable
Upgradeable Firmware
8 User Profiles
Replaceable LiPo Battery
Protection Features:
10-Second Cut-off
Over-Discharge
Under Voltage
Over Voltage
Short Circuit
Over Current
Lock / Unlock Capable
Specs:
Material: Superior-Grade 6061-Aluminum Alloy
Device Color: Limited Edition Blood Red Anodized Coating
Threading: 510 with Spring-loaded Center Pin
Grip Color: Stealth Black
Grip Material: Rubber-coated Polypropylene Plastic Shell
Power Output: 1 Watt – 200 Watts
Voltage Output: 0.5 Volts – 9.0 Volts
Current Output (Continuous): 50 Amps
Current Output (Instantaneous Peak): 55 Amps
Chipset: EVOLV's DNA 200 Chip
Software: EScribe (requires Windows computer to access)
Temperature Limit: 200°F – 600°F (93°C - 315°C)
Dimensions: 46.19mm x 28.15mm x 94.87mm
Battery: Removable Fullymax Lithium Polymer 900mAh 3 Cell
Grip Colors: Various
Included:
(1) Limited Edition Blood Red LAVABOX DNA 200 Box Mod
(1) Micro USB Charging Cable
(1) User Manual
(1) Warranty Card
(1) Gift Box